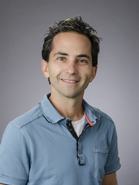 858-534-3939
RBC 1313
9500 Gilman Dr. #0508
La Jolla , CA 92093-0508
Profile
Research Information
Miscellaneous Information
Profile

Type: Faculty

Name: Josh Graff Zivin

Title: Professor

Degree: Ph.D.

Degree From: University of California, Berkeley

Degree Year: 1998
Research Information

Fields of Research: Environmental and Resource Economics (Primary), Health Economics (Primary), Innovation, and Development Economics

Research Interest: Health Economics, Environmental Economics, Innovation, and International Development

Professor Graff Zivin has published numerous articles on a wide range of topics in top economic, policy, and medical journals. His research interests are broad and include the areas of environmental, health, development, and innovation economics. Policy relevance serves as a guiding force behind all of this work. Much of his current work is focused on three distinct areas of research. His work on the impacts of poor environmental quality examines the relationship between the environment, health, and human capital formation, with a particular eye towards behavioral responses to mitigate adverse consequences. His work on the economics of innovation explores the role of institutions, social networks, and financial incentives in the production of new scientific knowledge within the life sciences. His research in developing countries is focused on the design of health interventions and their economic impacts.
Miscellaneous Information