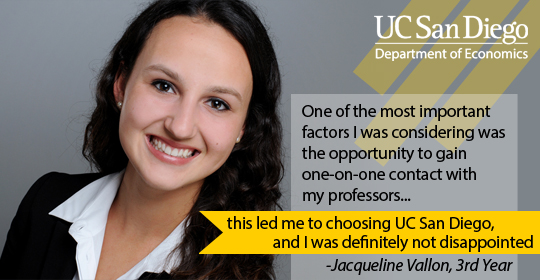 California offers many excellent Economics programs. Why choose us?
Faculty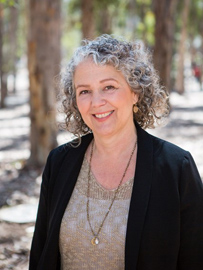 Our faculty are acknowledged experts in their fields. We're ranked the 12th best department by the most recent US World and News Report.
All faculty teach undergraduate courses. Many have won campuswide teaching awards. Professor Famulari has won three, and Professor Machina has won four!
Beyond required courses in micro, macro and econometrics, we offer over 50 different elective courses, most taught by world class researchers. Fields include behavioral economics, economic development, environmental economics, health economics, international economics, labor, law and economics, public economics, urban economics and more. If your passion turns out to be any of these (or is already), we have you covered.
Several faculty have literally (and literarily) written the textbook: Kate Antonovics (with Robert Frank & former Fed chair Ben Bernanke) Principles of Economics; James Rauch (with Gerald Meier), Leading Issues in Economic Development; Ross Starr, General Equilibrium Theory: An Introduction; and Joel Watson, Strategy.
Students
We offer a rich and diverse social experience by drawing outstanding students and faculty from all over the world. Students and faculty came from seventy nine countries last year. Economics is the most popular UCSD major among international students.
42% of our students are women, who finish about half a quarter faster, on average.
Our students come with a strong background in math (or get it here), allowing us to teach a rigorous program of microeconomic theory and quantitative data analysis (econometrics).
Interested in seeing where the class of 2021 is now? View our Senior Exit Survey Results.
Student-centered
Your time is valuable. To minimize time to degree and accommodate students arriving with different preparation we offer required courses repeatedly, including during summers. The result is extremely quick completion rates, even for students who began in other majors. 77% of students entering as freshmen complete their degree in economics in four years (including 7% in terminal summer quarter), and 97% in five. 91% of international students arriving as freshmen finish in 4 years. If you work with us, we will help you finish on time.
We innovate in teaching. Check out our video handbook in microeconomics, which allows you to watch a video of material at home, then come to class with questions. It is being used across the UC and was funded by UC Office of the President. Students love it, so we are developing a video handbook for our econometrics sequence too. We run group office hours with graduate students, which is extremely popular, and are experimenting with peer tutors.
Our students work hard in rigorous courses, learning skills that can earn them good jobs (starting salaries in the high 50s for those we've tracked) and spots in top graduate programs.
We match our best undergraduates to our best grad students, to learn skills and gain research experience as research assistants.
International students: Our two BSc majors can currently qualify undergraduates for extended employment authorization to pursue work experience in their field of study.
Questions? Check out our FAQ page, or our Virtual Advising Center (for currently registered students), or email (prospective students).
Questions about the student experience? Connect with a current student in our Undergraduate Economic Society (UES) by email, at ues.ucsd.edu, or on Facebook.