Majors & Minors
Economics can be broadly defined as the study of human behaviors aimed at finding solutions to help improve peoples' lives. A career in Economics is much more than you think!
Majors
We currently offer four different majors: a B.A. in Economics, a B.S. in Management Science, a B.S. in Mathematics-Economics, and a B.S. in Business Economics, with the Rady School of Management. To become one of our majors, students simply need to select the major using the Major/Minor Tool on TritonLink.

Which major is right for you? 
The Economics major (B.A.) builds the core toolkits of economists, how individuals, firms, organizations, and governments make choices. The core courses in microeconomics, macroeconomics, econometrics teach students how economies function and how to extract insights from data; full year sequences in microeconomics and econometrics provide advanced technical training. The wide range of elective courses in the Economics major apply the tools to topics in finance, trade, labor markets, energy and the environment, taxation, government, inequality, and international development, and more.
A degree in Economics is useful for a broad range of careers in business, finance, government, health, law, energy, technology, education, non-profits, international organizations, and many more.


The Business Economics major trains students to operate within firms and to understand how firms operate within markets. Training in core economics disciplines consists of two quarters of microeconomics and econometrics and one quarter of macroeconomics. Training in core business disciplines (accounting, finance, management, marketing, operations, strategy) teaches students how to perform various functions inside businesses. Electives in both areas deepen students' skillsets after core training is complete.


Our Math-Econ major (B.S.) is a program designed for students who aspire to graduate study in economics or business. It follows the same core sequence of the Economics major, and then delves deeper into the underlying mathematical foundations of microeconomics and econometrics. Compared to the Economics major, it requires more (you guessed it..) math, mostly calculus.


Our Management Science major (B.S.) is a unique program designed for students with an interest in business analytics. It teaches the basic economics toolkit, applied to the challenges of management in private and public sectors. In objectives it is most like a Business Administration major, but what sets it apart is our emphasis on mathematical and quantitative tools. In contrast to the Economics major, it requires finance, operations research and decision making under uncertainty, but less macroeconomics.
The Economics-Public Policy joint BA/MPP  program is offered together with the UC San Diego School of Global Policy and Strategy. The program incorporates graduate-level coursework into the final undergraduate year of study for a Bachelor of Arts in Economics-Public Policy. The Master of Public Policy is awarded upon completion of an additional year of coursework as a matriculated graduate student at the school. Applications are accepted each spring quarter.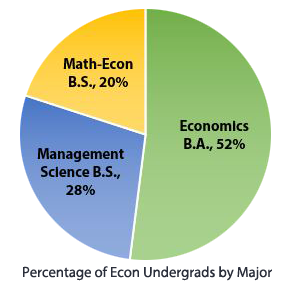 All students must have a minimum 2.0 major GPA in order to graduate.
All majors offer honors programs, and a wealth of choices among our electives. BA/MPP not included.
Our students often pursue minors in other programs. Popular choices are Accounting, Computer Science, and Political Science.
Questions? Check out our FAQ page, or our Virtual Advising Center (for currently registered students), or email (prospective students).
Questions about the student experience? Connect with a current student in our Undergraduate Economic Society (UES) at ues.ucsd.edu, or on Facebook.