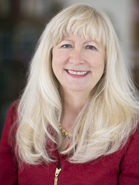 858-534-7040
ECON 326
9500 Gilman Dr. #0508
La Jolla , CA 92093-0508
Profile
Research Information
Miscellaneous Information
Profile

Type: Faculty

Name: Valerie Ramey

Title: Professor

Degree: Ph.D.

Degree From: Stanford University

Degree Year: 1987
Research Information

Fields of Research: Macroeconomics (Primary) 

Research Interest: Trends in time use, Leisure, Home production, Government spending, Inventories

Research Statement: Valerie Ramey is currently doing research in several areas. In a series of papers, she has been studying long-run trends in time use, including time spent at work, in home production, in formal schooling, and in leisure. She is also investigating possible explanations for the dramatic increase since 1990 in time spent with children by college-educated parents. In separate work, she has been studying the effects of military buildups on GDP and other economic variables and the effects of oil prices on the automobile industry.
Miscellaneous Information