A Celebration of the Life of Clive W. J. Granger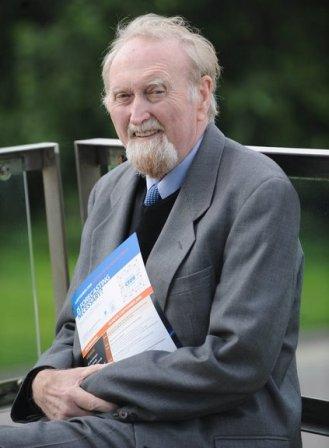 Nobel Prize
Citation
Autobiography
Selected Obituaries
New York Times Obituary
San Diego Union Tribune Obituary
Daily Telegraph Obituary
Longtime UC San Diego Economics Professor and Nobel Prize winner Sir Clive W. J. Granger passed away on May 27, 2009, in La Jolla, CA. We in the Department are greatly saddened by the loss of a great man and a giant in the field of Econometrics. At the same time, we are so very thankful to have had Clive in our midst these many years. He was a generous man who devoted huge amounts of time to advising students, colleagues, and visitors. His unusual combination of intellect, warmth, and humility provided constant inspiration for those around him. His presence has been an inspiration in the Department and his loss will be felt deeply. Clive is survived by his wife, Patricia; son, Mark; and daughter, Claire.
Clive Granger was born in 1934 in Swansea, Wales. After spending several years living in Cambridge and Lincoln, his family moved to Nottingham where Clive attended West Bridgford Grammar School. He attributed much of his later direction in life to the strength of the math department at West Bridgford. After obtaining his Bachelor's in 1955 and Ph.D. in 1959, Clive taught and did research at his alma mater, the University of Nottingham, until he joined the UC San Diego Department of Economics in 1974. For the ensuing 35 years, Clive was an active researcher and citizen of the UC San Diego Department of Economics. He also maintained a warm relationship with his alma mater.
The family requests that you share your stories, thoughts and memories of Clive on the remembrance page created in his honor. Also, in lieu of flowers, they request that interested friends and colleagues consider donations in his memory to the Clive Granger Memorial Fund. The fund will be used in consultation with the Granger family to support students and research in the Department of Economics.
Family, friends and the campus community gathered at the Ida and Cecile Green Faculty Club on Friday, July 31, 2009 in celebration of Clive Granger and his life, achievements and contributions to the world at large.