A Celebration of the Life of Ramachandra (Ramu) Ramanathan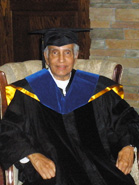 Memorial Tributes 
Remembrances
Dr. Ramachandra (Ramu) Ramanathan, UC San Diego Economics Professor and one of the co-founding faculty members of the Economics department, passed away on November 21st. Dr. Ramanathan was born in 1936 in Madras, India. He earned his Bachelor of Arts degree in Mathematics from the University of Madras (St. Joseph's College), and a Master's degree in Statistics from the Indian Statistical Institute. Dr. Ramanathan obtained his Ph.D. in Economics from the University of Minnesota in 1967. He combined his love of mathematics, statistics and economics by applying these disciplines in the fields of econometrics, energy economics, economic growth and international trade. He has authored many research papers, journal articles and a university textbook series on Econometrics. Besides his love of research and teaching, Dr. Ramanathan was passionate in co-founding and being President of Quantitative Economic Research Incorporated (QUERI), a consulting firm. He also enjoyed serving on the Energy Finance Advisory Committee for the San Diego Association of Governments. 

Dr. Ramanathan was a generous and patient man who was committed to the success of his students, the university, and his consulting practice. Through it all, he was a devoted husband and family man. An avid camper, Dr. Ramanathan took his family on many trips visiting national parks and monuments. He believed firmly that we should all follow our deepest passions and excel in our chosen field. He has been an inspiration to us all and will be sorely missed. Dr. Ramanathan is survived by his wife, Vimala, sons, Sridhar and Pradeep, and daughter, Sadhana, as well as eight grandchildren. 

The family requests that you share your stories, thoughts and memories of Dr. Ramanathan on theremembrance page created in his honor. Also, in lieu of flowers, they request that interested friends and colleagues consider donations in his memory to KPBS, a public broadcasting company he enjoyed, by clicking on this link.