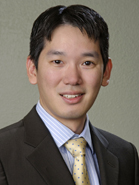 858-534-3939
RBC 1417
9500 Gilman Dr. #0519
La Jolla , CA 92093-0519
Profile
Research Information
Miscellaneous Information
Profile

Type: Affiliated Faculty

Name: Krislert Samphantharak

Title: Associate Professor and Associate Dean, GPS

Degree: Ph.D.

Degree From: University of Chicago

Degree Year: 2003
Research Information

Fields of Research: Finance (Primary), Development Economics, Law & Economics, Public Economics

Research Interest: Household finance in developing economies, Corporate finance, Corporate governance, Business groups, Family business, Economic development of Southeast Asia

Research Statement: Professor Krislert Samphantharak's research applies frameworks and theories in corporate finance and asset pricing to study household finance in developing economies. His current research on village economies in Thailand looks at household's occupation diversification, volatility and smoothing of household income and consumption, and risks and returns on household assets. He also studies the role of family and networks in family businesses and corporate restructuring in emerging economies. Other research interests include the effect of unpredictable corruption on firm investment, the effect of sales tax on gasoline prices, the effect of firm's lobby spending on its effective tax rate, and economic development of economies in Southeast Asia.
Miscellaneous Information